800+ sensor outputs reporting from turbine
7.414 homes powered since 2016
7.050 tonnes of
CO2 offset since 2016
The UK is committed to achieving net-zero carbon emissions by 2050, and so the way we produce, use and store energy must change. Sources of power, heating and transport must decarbonise, meaning offshore renewable energy will be a vital part of our future energy mix. The development and implementation of smart energy systems will be key to helping make this new future energy supply a reality.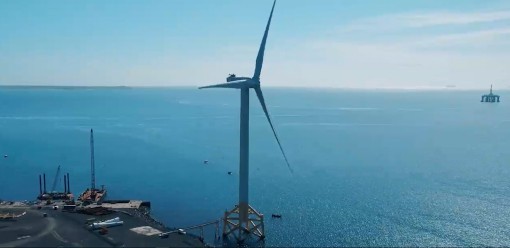 ORE Catapult's Role
ORE Catapult is the lead partner in the Scottish CLUE consortium, providing local energy system and stakeholder knowledge as well as our 7MW LDT for testing purposes. Our LDT will be used to show how energy produced from offshore wind can be distributed through a web-of-cells network architecture that offers the potential for local communities to trade energy with one another, and lead to greater generation and demand balancing at a regional and national level.
The ScotCLUE project will use electricity generated from our 7MW LDT and also considers a local hydrogen microgrid. This enables us to work with Smarter Grid Solutions (SGS) to develop its software platform that can interface with each asset and provide additional control options for the demand/load response. The University of Strathclyde will use their cyber security and modelling experience to focus on system resilience, with further collaboration with Community Energy Scotland and Greener Kirkcaldy as part of a comprehensive stakeholder engagement plan for the Levenmouth and Kirkcaldy communities. The project acts as a stepping-stone to highlight the potential of integrating hydrogen as part of our renewable energy mix on a larger scale for future/follow-on projects.
The Solution
The CLUE project will build on lessons learned from the WESLID feasibility study, that investigated the opportunities available when integrating a locally managed energy system for the Levenmouth area. CLUE goes one step further and will be a world-first series of demonstrations tackling the integrated energy system challenge for heat, power and transport. It focuses on designing and demonstrating changes to the local energy network infrastructure that can enable increased control of supply and demand assets across multiple energy sources including wind, solar, thermal and hydrogen. It will demonstrate a range of local energy community (LEC) solutions by implementing projects in at least five demonstration sites across Europe, one of which includes our Levenmouth Demonstration Turbine (LDT) in Fife, Scotland (ScotCLUE). The projects will design a more flexible local energy system and implement use cases ranging from energy trading and energy storage to increased grid management and network security solutions.
Interconnection will be crucial in meeting the UK's current and future energy needs efficiently. With future interconnectors to bolster our national electricity grid infrastructure already in the construction phase, it is important that the UK understands how local energy systems will interface with these interconnectors in the future. The ScotCLUE demonstration will therefore seek to address communication and resilience challenges within local energy systems at a local level, and then develop the identified solution to enable potential scale-up and replicability at a regional and national level.